— Major Glamping Operators Likely to Get a Boost in Aftermath of Covid-19 Pandemic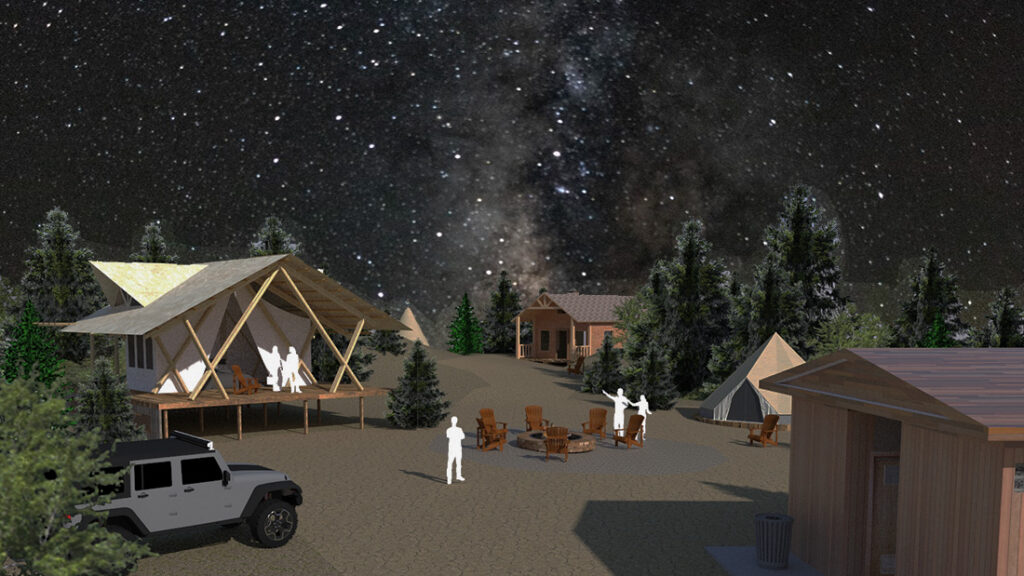 We're expecting glamping operators to have a good run as the economy opens up and Americans continue to deal with the Covid-10 pandemic these next couple of years.   Why?  Glamping provides physical distancing, natural ventilation, plenty of sunlight, its so different in a way that young travelers are seeking these days.
Glamping is in the early days of transition from a thoroughly mom-and-pop industry, to an accommodations sector that is beginning to see national operators.   We expect this trend to continue as consumers continue to enjoy the unique settings that are available through these national operators, along with the implied operating standards of a national company.
Here are some of the new breed of glamping industry players:
Company
Website
Summary Overview
Adventure Alternative
www.adventurealternative.com
The travel company offers high quality adventure holidays including climbing expeditions, trekking holidays and wildlife safaris, school trips abroad and charity treks. Founded by British mountaineer Gavin Bate in 2001.
Airbnb
www.airbnb.com
First established in 2008, further boosts the interest in unique overnight accommodations.
AndBeyond
www.andbeyond.com
Luxury experiential travel company, offering safaris and tours in Africa, Asia, and South America.
Aracari Travel
www.aracari.com
As it describes on its website, Aracari is the bridge that connects travelers with the spirit of magical places in Perú, Bolivia and Galapagos.

Aracari celebrates the roots and histories of these places making all dreams possible in an environment of respect for local cultures and the environment.
Autocamp
www.autocamp.com
Accommodations featuring modern and luxurious 190-SF Airstream units, in a camping sensibility evoking the great American road trip. The Airstreams are manufactured for this purpose by Thor Industries Inc. First established in 2013.
Bouteco Travel
www.bouteco.co
An eco-travel website, Bouteco helps hotel lovers find the best boutique eco hotels.
Collective Retreats
www.collectiveretreats.com
Each retreat is located in an iconic destination and features luxury outdoor accommodations, exceptional culinary experiences, and genuine hospitality. First established in 2015.
Cool Camping UK
www.coolcamping.com
Booking website. A hand-picked selection of outstanding tent-oriented campsites. The series now includes Wales, Scotland, France, Europe, Britain, Cool Camping: Kids, the Cool Camping Cookbook and the Cool Camping Guide to Festivals!
Earthchangers
www.earth-changers.com
According to its website, the company allows its guests to experience unique life-changing purpose travel for sustainable development, ecotourism and responsible travel.
Eco-Label for European Hotels
Gets started in 2003.
Eco-Retreats Wales
www.ecoretreats.co.uk
The company offers five unique glamping accommodations spread out over 50 acres, part of a 1,300-acre organic farm. Each unit is situated its own secluded area with private outdoor wood-fired bath and bathroom, and campfire area.
Ecocompanion
An eco-travel company and booking platform which pulls together eco-lodges, tours, and conservation projects.
Everland Eco-Retreat
Denver, Colorado
www.everland.co
An eco-retreat featuring immersive art, on 145 acres. Located southwest of Denver in Sedalia (Douglas County). retreat center owned by the Korean Christian Church South and used by various colleges, foundations, and camp programs. Opening in 2021
EXP Journeys
www.expjourneys.com
EXP has developed an exclusive luxury camping program at remote sites throughout the national parks region in the U.S.
Explora Project
www.explora-project.com
Tour operator and travel agency focused on the adventure tourism. Based in Annecy, France,
G Adventures

www.gadventures.com
An adventure travel company, offering small-group tours, safaris and expeditions. First established in 1990, by Bruce Poon Tip.
Glampsites
www.glampsites.com
Booking website. For the UK and France.
GoBOLD Adventures™
www.goboldadventures.com
Adventure recreation operator and design-builder.
Green Globe
www.greenglobe.com
The Green Globe certification is a structured assessment of the sustainability performance of travel and tourism businesses and their supply chain partners.
Green Key Global
www.greenkey.global
Created for use by the lodging industry, Green Key Global offers an Eco-Rating Program to evaluate properties on an environmental, economic, and social level.
Greentique Hotels
Costa Rica
www.greentiquehotels.com
Unique Costa Rica destinations.
Hipcamp
www.hipcamp.com
Booking website. A kind of Airbnb for campers, property owners rent through the website. Headquartered in San Francisco.
Huttopia
www.canada-usa.huttopia.com
French-style camping or glamping resorts in Quebec, Maine, New Hampshire, New York and California.
Intrepid Travel
www.intrepidtravel.com
Intrepid actively work with communities and a range of local partners to support the development of new experiences in destinations that otherwise wouldn't see the benefits of tourism. The company became a B Corp in 2018, at the time the largest travel company in the world to become one.
Kampgrounds of America, Inc. (KOA)
www.terramoroutdoorresort.com
In 2020, KOA opened its own glamping resort called Terramor Outdoor Resort, near Acadia National Park (Maine). The company has offered deluxe cabins at its campgrounds for many years.
Kind Traveler
www.kindtraveler.com
A hotel booking platform with a socially conscious sensibility, for destinations in the U.S. and select additional countries.
Kynder Travel
www.kynder.net
Kynder describes itself as the first eco-conscious travel platform spotlighting unique hospitality establishments with sustainable and fair labor practices.
Loge Camps
www.logecamps.com
Offers places to stay in select locations in the U.S. Pacific Northwest, with lodging and rental equipment - for surfers, mountain bikers, and other outdoor enthusiasts Five locations as at mid August 2020.
Luxury Frontiers
www.luxury-frontiers.com
Designer of unique glamping facilities, on a worldwide basis.
Maho Bay Camps (U.S. Virgin Islands)
Pioneered the concept of-eco-resorts (tourism) starting in 1976. The operation ended when the ground lease was not renewed.
Nayara Tented Camp
www.nayaratentedcamp.com
The camp will feature 18 luxury tents, 12 of which will be "mirror image tents," linked together to create two-bedroom units.
Paper Bark Camp
www.paperbarkcamp.com.au
A tented bush camp in Jervis Bay, in New South Wales, Australia.
Quality Unearthed
www.qualityunearthed.co.uk
Booking website. Q/U has handpicked the best alternative abodes in the UK from treehouses, yurts, wagons, cabins, Gypsy caravans and more for memorable vacation stays.
Responsible Travel
www.responsibletravel.com
An online travel agency and publisher, founded 2001. Holidays are screened for their compliance with environmental, social and economic criteria with an emphasis on grassroot initiatives and local providers.
Rickshaw Travel
www.rickshawtravel.co.uk
Rickshaw specializes in flexible, independent travel experiences that you can piece together to build your own personalized holiday.
Steppes Travel
www.steppestravel.com
Offers a unique collection of travel adventures throughout the world.
TentRR
www.tentrr.com
Tentrr provides a network of individual campsites with a standardized raised-platform and canvas tent with air bed situated on private land. each site an average of 12 acres.
Terra Glamping
www.terraglamping.com
Successor company to TerraVelo Tours, now offering Terra Glamping experiences in several U.S. destinations.
The Resort at Paws Up
www.pawsup.com
Among the larger glamping destinations, with 30 luxury glamping tents in Greenough, Montana.
Under Canvas

www.undercanvas.com
One of the early glamping developers, Under Canvas typically locates its "safari camps" adjacent to national parks. The featured tent accommodations are made of wood and canvas for particular aesthetic purposes. In December 2018, KSL Capital Partners announced a "substantial investment" in Under Canvas, although financial terms of the deal were not announced publicly. First established in 2009.
Undiscovered Mountains
www.undiscoveredmountains.com
Travel company focused on mountain adventures.
Glamping Operators and Eco Tours Operators
List of "eco lodge," glamping operators, and eco-conscious luxury travel company active regionally or nationally. StoneCreek Partners LLC