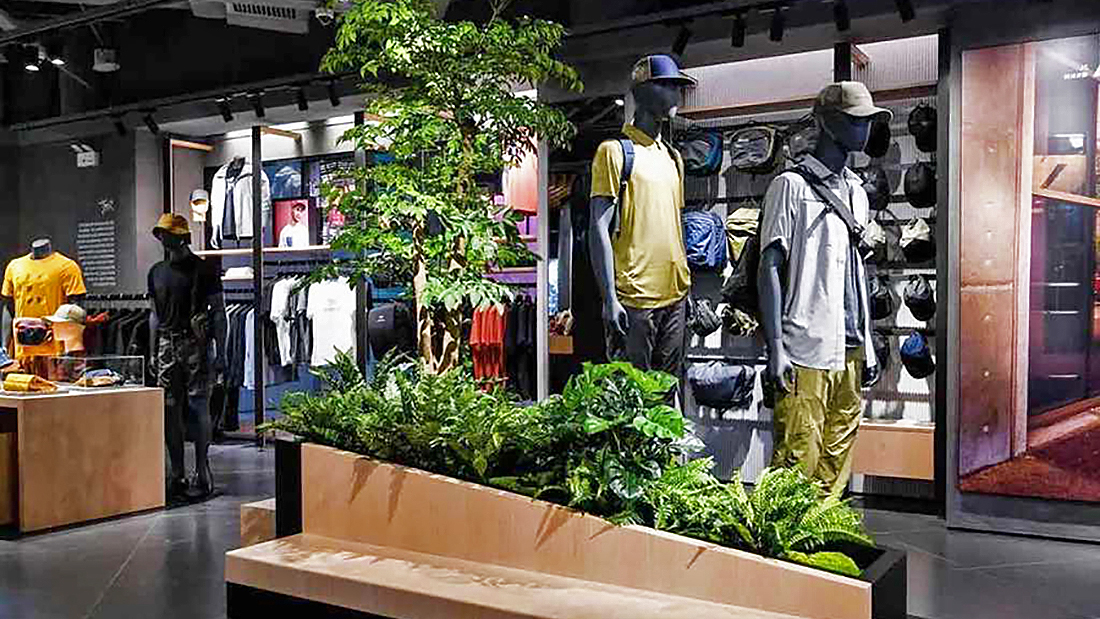 Arc'teryx's Store has four "Experiential Huts"
AEC's Consumer Products Monitor
Arc'teryx's store has four "experiential huts" throughout its two-level, 8,000 SF store space in Shanghai; the retailer's 30th store in China.   The outdoor apparel and gear store is among more than 3,000 locations globally for the retailer.  Arc'teryx Equipment specializes in technical high-performance apparel, outerwear and equipment, based in North Vancouver, British Columbia.  Arc'teryx Equipment is in turn owned by Amer Sports Oyj, a PRC-owned Finnish sporting goods company.
The immersive approach to the store's design is an example of the kind of experiential retail necessary to make the -in-store visit compelling.  The four different experiential huts include: the "Hardshell Hut" featuring LED screen views and sounds of the Canadian mountains; the "Gore-Tex Hut" rain room; the "Hardgoods Hut" with the brand's hard goods and a climbing wall; and the "Brand Hut" featuring a seasonally-changing virtual reality module.
Retailers that deliver in-store experiences are also what's needed for shopping centers and retail districts.   As online retail purchases continue to rise, the relevancy of mall retail is more akin to the enduring interest of consumers for location-based entertainment.  Arc'teryx's store with four "experiential huts" is the kind of hybrid retail/LBE that will allow physical mall destinations to make sense.
An interesting description of the store is available on the SGB Media website, at: Arc'teryx Opens Global Flagship Store In Shanghai