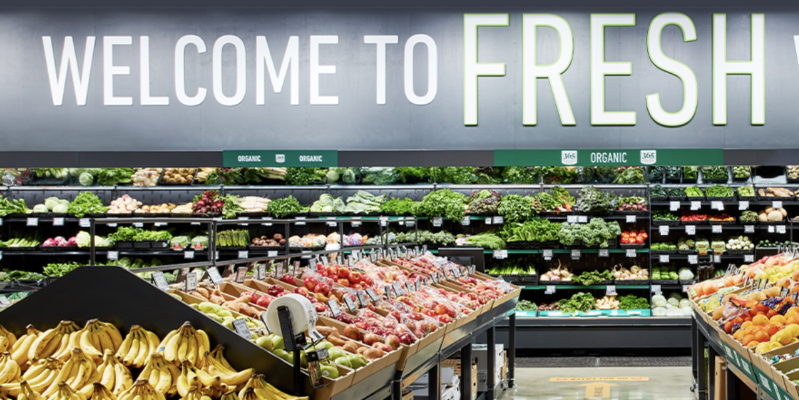 Amazon Fresh Opens in Irvine
AEC's Consumer Product Monitor – Amazon Fresh opens in Irvine, California
Update October 22, 2020 
From prior article, August 27, 2020:
Amazon has announced the opening of its Amazon Fresh grocery store, in Woodland Hills, California.   The all-new operation includes the Amazon Dash Cart which allows in-store customers to skip the checkout line, and a new Alexa feature to assist customers in managing their shopping lists and in-store navigation.
The new Amazon grocery format is an Amazon brand extension that propels its tech prowess and further casts a bricks-and-mortar net.   But the Amazon Fresh format is also testimony to the influence of consumer interest in compelling experiential design and location-based entertainment.  The Amazon Fresh experiential design utilizes numerous customer touch-points in the guest experience, each of which reach deep into Amazon's branded technology.
As well, the stores are a textbook example for establishing a personal relationship of brand to consumer, in this case bringing Alexa and Amazon Prime to out-of-home after first establishing the branded tech and services in-home.   For some consumers, finding Alexa and Amazon Prime at their grocery store, may also have even emotional resonance with regard to the brand.
The 35,000 SF store at 6245 Topanga Canyon Boulevard (Woodland Hills) is one of several cashier-less grocery stores the company plans to operate in Southern California.  This post is updated to note that the second Amazon Fresh opens in Irvine, California in October.
A recent Los Angeles Daily News article provided an excellent overview of the new Amazon offering.
GO to Amazon's announcement.