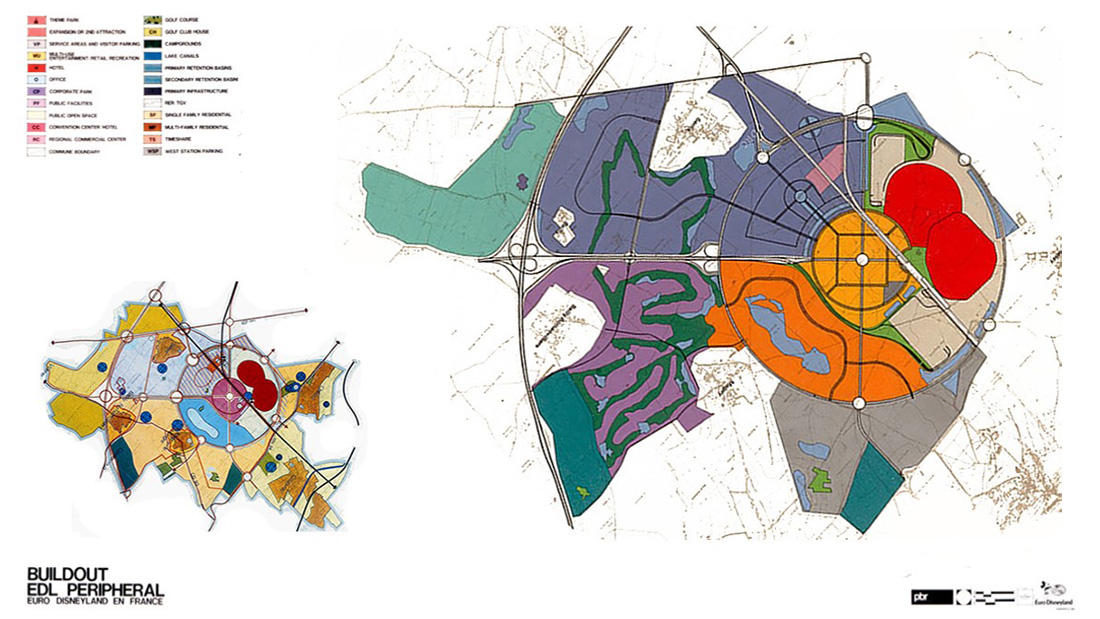 The Marne-la-Vallée master plan was part of an overall new town economic development plan to relieve urban development pressures on Paris.  Our work noted here was conducted by a predecessor company in which our co-founder was a partner.   Our work in connection with the Marne-la-Vallée master plan included the land use planning and strategic business planning support for client Walt Disney Co.
The strategic business planning work included product concepting and financial analysis for various sections of the master land use plan, including specific feasibility issues raised by client's  strategic planning department.  Work performed also included overall land development consulting analysis such as land residual valuations – a means of depicting build-out value for various master plan and build-out scenarios, as well as financial studies of alternative routings of planning golf course facilities.
Marne-la-Vallée is a new town, an economic development strategy for the greater Paris region of France.   It is about a 50-minute drive (by auto) from the center of the Marne-la-Vallée new town master plan which includes Paris Disneyland, over to central Paris (at or about Pont Neuf).   By metro the trip is about one-half the time by automobile.  The Marne-la-Vallée project was one of five new towns envisioned in the early 1960's, and emerged among these other concept new towns as the largest.
The new town was intended to take some of the urban development pressure away from Paris and place a new focus in a new location.  Paris Disneyland was the business "anchor" for propelling the start and growth of the new town region.   From a population of Marne-la-Vallée has a current population of more than 280,000 residents.  The Marne-la-Vallée master plan called for a potential of 500,000 residents at full build-out.
Other major institutions that located in this new town include Université Paris-Est Marne-la-Vallée and École des Ponts ParisTech, among numerous others.  The Descartes Cluster is also situated in Marne-la-Vallée new town, the largest concentration in France of research centers (50+), higher education organizations and businesses involved in green technologies and city sustainability.
The master planning process for Paris Disneyland (then Euro Disneyland) was comprehensive and wide-ranging. Disney's overall project included master-planning of a major regional theme park and themed entertainment district in the vicinity of the theme park.